Fossil Creek is a beautiful oasis in the desert of Arizona. It is a "Wild and Scenic" river that can be accessed via Fossil Creek Road near the community of Camp Verde. This river is one of Arizonians' favorite recreational swimming holes, and the area is home to 3 main hiking trails: Bob Bear Trail, Flume Trail, and Waterfall Trail.
? Route Details & Map
Arizona Fossil Creek Trails
Fossil Creek Hiking Trails Map:
Red: Bob Bear Trail
Green: Flume Trail
Blue: Waterfall Trail
Arizona is a hot place – that's no surprise to anyone. So what do Arizonans do during the summer? Many choose to spend their time in the pool or indoors at the movie theaters or shopping.
For outdoor enthusiasts, they head north to the mountains or to water and waterfalls hikes.
Fossil Creek is one of the most popular of this kind of hike and is only a 2.5-hour drive from Phoenix.
In this article you'll learn everything there is to know about the Fossil Creek area and its hikes before you visit, along with practical information, helpful advice, and pro tips. Let's explore!
After a 16-month closure due to a nearby wildfire in 2021 and the subsequent possibility of flash flooding and ecosystem damage, Fossil Creek recreation area in Coconino County, Arizona, announced its reopening on Friday, November 3, 2022.
Fossil Creek: What to Expect
Designated as a "Wild and Scenic River" by Congress in 2009 to protect the creek and surrounding areas, Fossil Creek used to be much more accessible from either the east or the west side. A fire in 2021 closed down the eastern access points from Strawberry, Arizona, leaving only one access by vehicle through Camp Verde/I-17 on the western side.
Parking reservations are required ahead of time, between the dates of April 1-October 1. You may only park in designated areas and due to the sensitive nature of the landscape and ecosystem, camping is not allowed anywhere near Fossil Creek.
Don't let these restrictions and extra work deter you from making the trip to Fossil Creek! It is truly one of the most gorgeous and unique natural places in all of Arizona, and the permit requirements limit crowds which helps keep this special place clean and quieter.
Located 22 miles from Camp Verde by way of Route 260 and two dirt roads (Forest 708 and Forest Road 502), high-clearance vehicles are highly recommended for the dirt road section.
Your hiking journey to Fossil Creek has a few options, depending on if you want to visit the waterfalls or if you want to just reach the creek:
Of course, if you want to enjoy the creek but don't want to hike too much, there is creek access from Purple Mountain, Sally May, Homestead, Fossil Creek Bridge, and Tonto Bench parking areas. Once again, parking permits are required to be purchased ahead of time, printed out, and presented on your dashboard.
You can easily spend 2 hours and up to a full day exploring Fossil Creek, and most people choose to spend as much time as possible here since it takes extra planning and travel to get here than it used to.
The gate opens at 8 am and closes access to more vehicles at 4 pm, however, you can still leave out the exit gate after 4 pm until 8 pm. Plan accordingly, bring plenty of water and snacks, and enjoy one of the most pristine water sources in Arizona.
Fossil Creek is unique in that it seems to appear out of nowhere; the creek is fed by Fossil Springs, a series of naturally cold water springs that come up out of the ground and create the flowing waters of the creek. The water is deliciously cold where it comes out of the ground, but always filter your water if you're planning on drinking it!
How Long Does It Take to Complete the Hikes at Fossil Creek? Are the Hikes Difficult?
The shortest hike from the Waterfall Trailhead is the waterfall hike which should only take about 45 minutes one way, but you might find yourself spending some time at the falls to enjoy their splendor and beauty!
The Flume trailhead is longer yet, and there is no creek access until the end when you reach Fossil Creek Dam so be sure to pack enough water for the trek. The 10-mile round trip should take you most of the day, 4 to 6 hours, so start early.
The Bob Bear Trail is by far the most strenuous, with 4 miles of hiking required before you even reach the creek and there is no water available along the way. The four-mile hike drops about 1500 feet into a canyon and the hike out on this same trail is very strenuous and exposed to direct sunlight. This is a fun hike for those who love a challenge, and should only be attempted by those who are in reasonably good shape.
Highlights of the Fossil Creek Area
The Creek: Fossil Creek water is clear, cold, and makes for a refreshing swim on a hot summer's day. Be sure to wear appropriate footwear in and out of the creek to protect your feet, and swimwear as well.
The Falls: Fossil Creek Falls are truly spectacular; the water tumbles over a waterfall about 15 feet tall. The cliffs on either side of the waterfall are a little taller, and people enjoy jumping from these cliffs into the pools below. Only do this if you are a strong swimmer; people have died or been injured at the falls.
The Springs: The Flume Trail and Bob Bear Trail will both take you to the headwaters of the creek, where the springs bubble out of the ground at an astounding 20,000 gallons per minute! The water is very cold when it comes out of the ground but needs to be filtered to drink safely.
The Ecosystem: Fossil Creek and the surrounding area is a protected watershed, and you may be lucky enough to see some wildlife like deer, squirrels, birds of prey, bear, coyotes, and bobcats.
The Bridge: The water under the Fossil Creek Bridge is deep and shaded, providing a great place to have a picnic and enjoy the creek without having to hike. Be sure to always "Pack it in, pack it out!".
When Should I Visit Fossil Creek?
Arizona has the advantage of year-round outdoor recreation, and Fossil Creek is no exception. I would personally avoid the longer hikes during the hottest time of year (June-August) but the creek is best enjoyed on a hotter day due to the coldness of the water.
If you're looking to avoid the crowds, hit up Fossil Creek on a weekday during the off-season, such as in the fall or winter. You might even be lucky enough to have the whole place to yourself!
Directions from the official website:
"From Interstate 17, exit 287, turn east on state Route 260 towards Payson, and travel 10 miles. Between miles 228 & 229, Forest Road 708 (Fossil Creek Road) intersects SR 260 on the right, signed as Fossil Creek/Verde River. Travel 14 miles down this rough dirt road (high-clearance 4WD vehicles recommended) to Forest Road 502 (Childs Road)"
Where to Stay Near the Fossil Creek Area?
Camp Verde is a small town but has a few decent hotels. Stay at the Days Inn by Wyndham or the Cliff Castle Casino Hotel.
It's only 30 minutes from Camp Verde to the first parking lots, so if you're looking to get an early start, staying in Camp Verde is a good option. It's only a 2.5-3 hour drive from Phoenix, so visiting Fossil Creek as a day trip is possible as well.
Camping is not permitted anywhere in the Fossil Creek protected areas during the summer season from April 1-October 1. At other times of the year, camping is allowed in limited spots but take care to never camp right up against the creek, to protect the fragile ecosystem.
Where to Eat?
Camp Verde has your usual chain/fast food restaurants, making it easy to grab a sack lunch before you head out to Fossil Creek.
You can also catch dinner after your day of fun at one of the several independent restaurants in town, such as La Fonda, La Casita Mexican Restaurant, or Moscato Italian Restaurant.
Montezuma Burger Haus is another local favorite; sometimes a burger and fries is the only thing that'll hit the spot after a long day!
Pro Tips for Hiking in the Fossil Creek Area
Based on my experience hiking the Fossil Creek trails, here are my top tips that you should follow: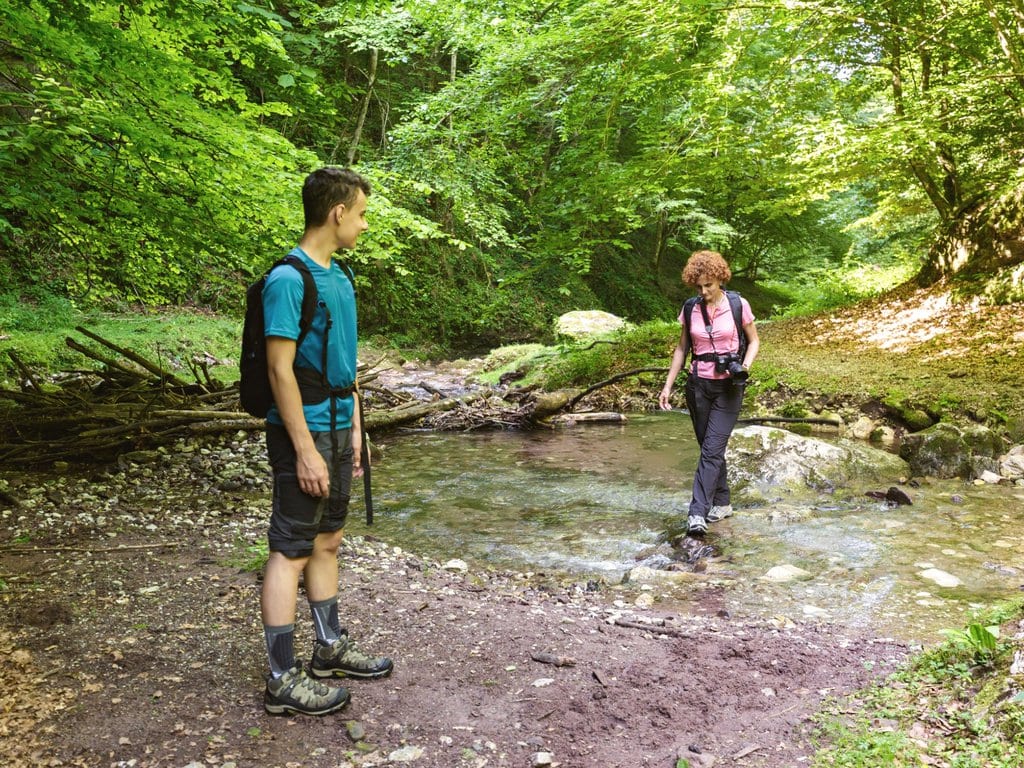 Nearby Trails
Since Fossil Creek is a fairly remote area, there aren't any hiking trails from elsewhere that connect to this area. All of the hiking is close to the creek or within the canyon, so your best bet at seeing and enjoying the creek is by getting a reservation permit and using the available parking lots.
At a 1.5-hour drive from Fossil Creek, there's the Water Wheel Falls trail which is also a beautiful water hiking trail. I wrote a complete guide about it too: Water Wheel Falls hiking trail guide.
Final Words
Fossil Creek is one of the most beautiful and peaceful places in all of Arizona, especially for being so close to the Phoenix metro.
Before it was a protected area as a "Wild and Scenic River", it used to get very crowded and even trashed by visitors. Now, with the limited permits available and with more driving required to visit, Fossil Creek is a little quieter and preserved for visitors.
For those who love seeing native flora and fauna, and enjoy cliff jumping, hiking, and swimming, visiting Fossil Creek, the waterfall, and the springs is a no-brainer.
As Fossil Creek opens again after this recent closure, I have a feeling people will be clamoring for permits to get back into one of Arizona's best recreational areas.
Hiking Trails, Map, Pro Tips (2022)