The Water Wheel Falls is a 1.6 miles hiking trail in the Tonto National Forest 9 miles north of Payson in Arizona. It is a short hike with fabulous views that lets you follow the banks of two rivers and ends at a crystal-clear swimming hole. The hike is considered to be moderately challenging but packs a lot of fun boulders climbing, cliff jumping, swimming holes, and waterfalls!
? Route Details & Map
Water Wheel Falls
Water Wheel Falls Hiking Trail Map:
Arizona is an outdoor enthusiast's paradise, with unlimited options for camping, hiking, mountain biking, fishing, water sports, and much more. Out of all the outdoor activities done in Arizona's deserts and mountains, hiking is by far the most popular.
There are so many iconic hikes in Arizona: The Grand Canyon, Havasupai, Devil's Bridge in Sedona, Humphrey's Peak, and Antelope Canyon, to name a few. With popular hikes comes crowds and congested trails, which is why seeking out lesser-known hikes can afford a more enjoyable trek.
One such hiking destination is Water Wheel Falls, located just outside the small mountain town of Payson, Arizona. Located at the base of the Mogollon Rim plateau in what is known to locals as "Rim Country", Water Wheel Falls is a quaint but picturesque water feature on Ellison Creek.
Let's explore!
Water Wheel Falls: What to Expect
Carved into the beautiful gray granite by the flowing waters and occasional flash floods of Ellison Creek, these falls cascade over a few rocky outcroppings into crystal clear (and very cold) pools below.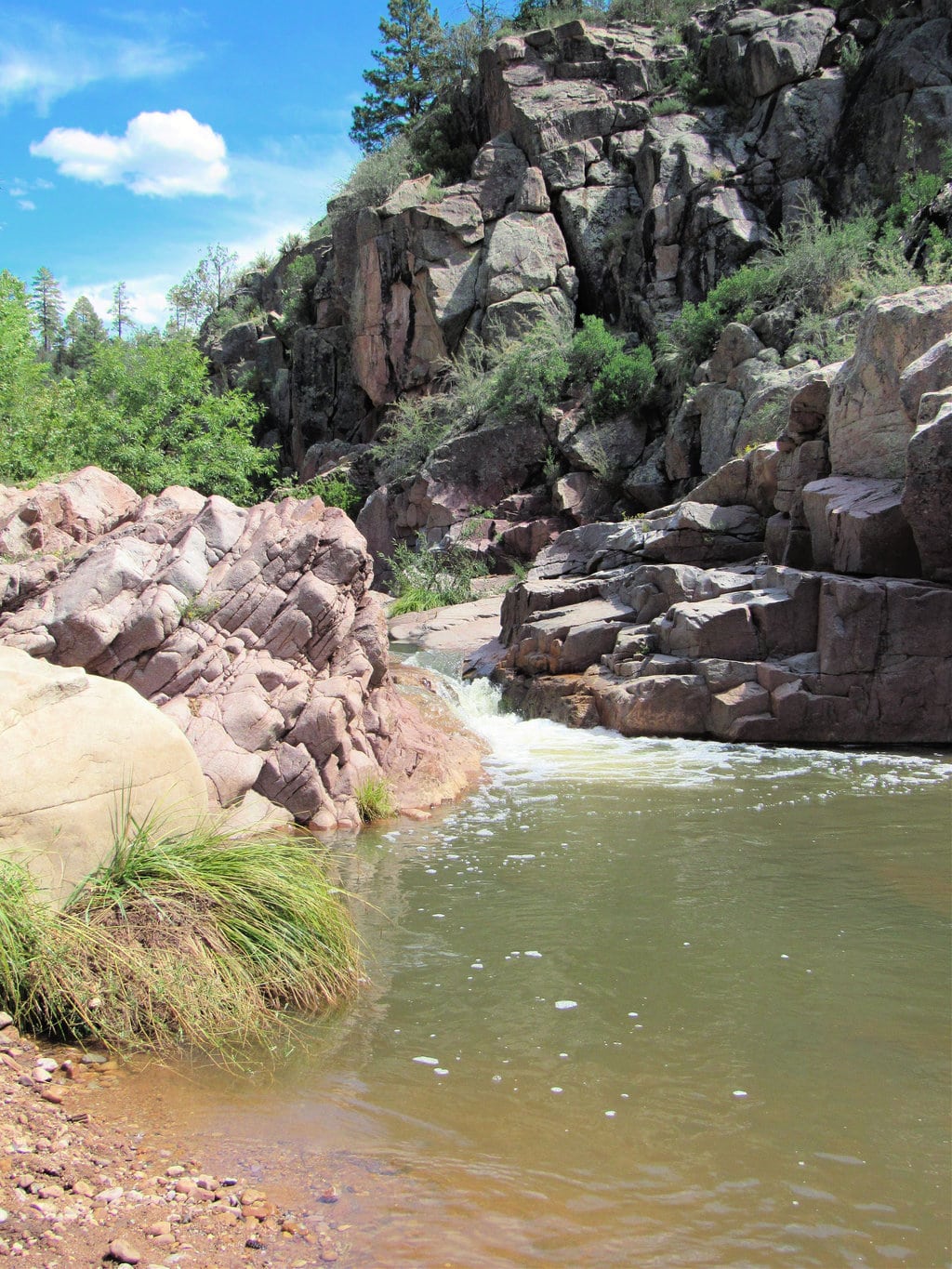 The trail to the falls starts at the Water Wheel Trailhead and Campground on Houston Mesa Rd, just a few miles north of Payson, and ends at Water Wheel Falls (also known as Ellison Cascades).
There isn't much of a trail once you reach the East Verde River, and then take the fork off to the right into Ellison Creek. There is a lot of boulder hopping and creek crossing, so wear good hiking shoes with rugged soles and avoid this hike if you have poor balance.
The trek is 1.6 miles total out-and-back. You can finish it in 30 minutes, but most hikers will take their time on this hike due to the challenging terrain, so expect to spend about 2-3 hours here. In the summer, you might even spend half a day here enjoying the cold water and refreshing pools.
The Ellison Creek swimming hole is located at the base of the falls, which flows down rock that has been smoothed into a slide-like cascade over the years. A visitor long ago placed an old log (or maybe a flood deposited it there) alongside the falls, and notches in the log allow you to climb up safely to the top.
Water Wheel Falls gets its name from the historic water wheel located near the trailhead, which was built in the 1930s by a local miner named James Greer. The water wheel was constructed to use the water of the East Verde River to turn it, powering what is called an "ore crusher" to extract gold from the earth.
How Long Does It Take to Do the Route?
On average, most people can complete the Water Wheel Falls hike in 2-3 hours for the full round trip. If you're less comfortable boulder hopping or crossing the flowing creek water, it might take you longer. If you're unfamiliar with the route, that will also add time to your hike.
This isn't a typical hike with a well-marked trail and simple footpath; you'll be picking your way among boulders and brush as you follow the creek upstream.
Is the Water Wheel Falls Difficult?
Most hikers will find the Water Wheel Falls route to be moderate or difficult, even though the distance itself is short.
But it really depends on your fitness level. Confident hikers with good balance and sure-footedness will have a great time jumping from rock to rock and crossing the creek several times. Prepare to get wet!
Although there isn't much elevation gain, you'll still be challenged physically as you make your way to Water Wheel Falls.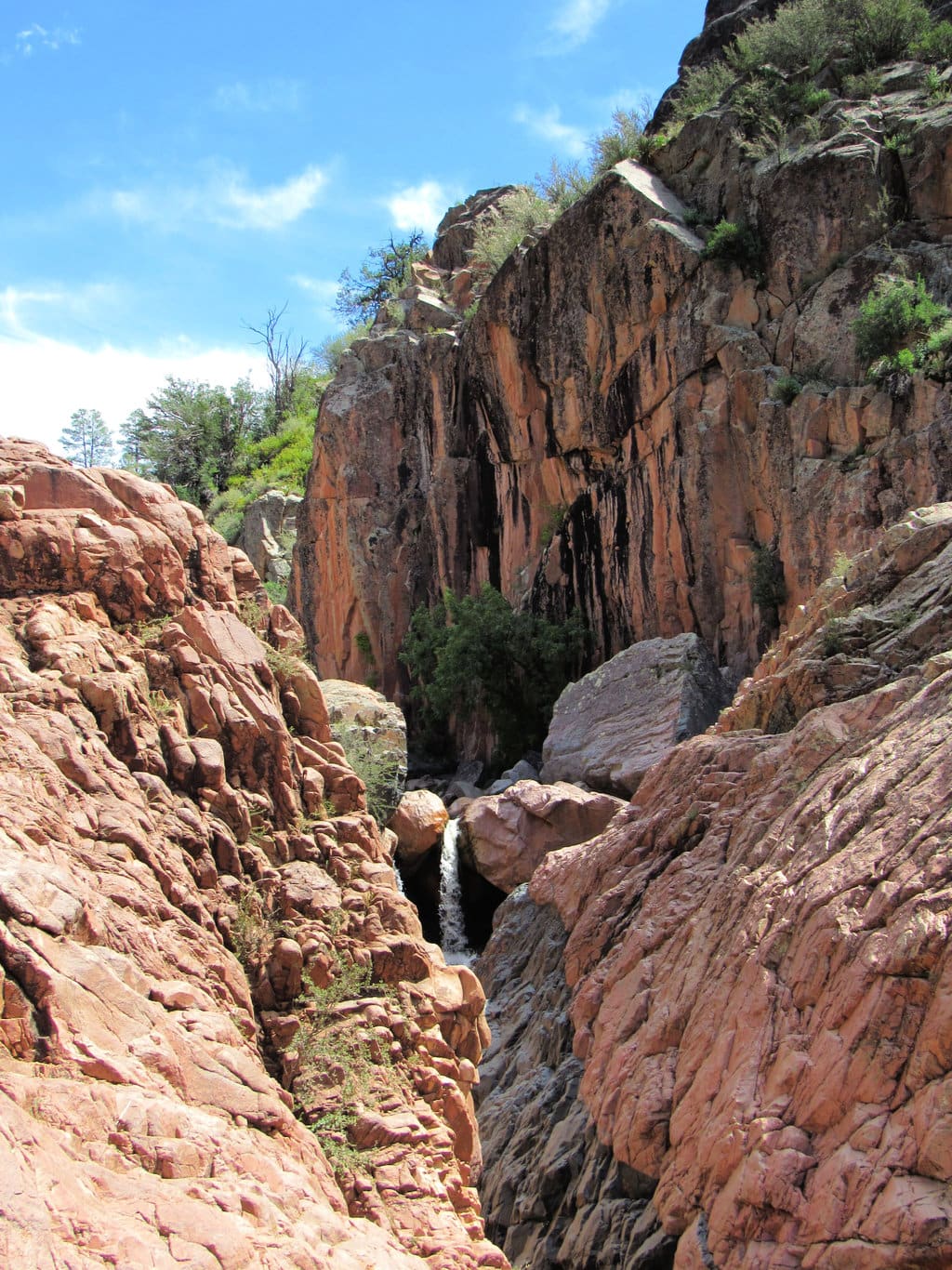 Highlights:
The Water Wheel – a handmade wooden structure built by James Greer during the Depression Era, this still-intact historic water wheel sits just off the East Verde River. You are able to walk up to it and see it up close!
Ellison Creek and East Verde River – Few rivers and creeks in Arizona flow year-round, and these two are particularly beautiful. Your kids and dogs will enjoy frolicking in the water on your way to the falls.
Great weather – The weather in the "Rim Country" is milder than that of the lower deserts, and is a favorite summer escape for many Phoenicians. The winter months may be too cold to visit Water Wheel Falls, but for about 9 months of the year, the conditions are perfect!
Boulder-hopping – Forget about the usual smooth trails and well-marked routes! This trek requires some route-finding and much of it requires boulder hopping along the creek bed. It isn't possible to get lost, as long as you stay near the creek.
Local flora and fauna – Towering Ponderosa pines, oaks trees, and other local vegetation all make this a pleasant environment to spend the day. If you are lucky, you might even see deer, elk, coyotes, or other animals that make these mountains home.
Pro Tips for Hiking the Water Wheel Falls Trail
Based on my experience hiking the Water Wheel Falls trail, here are my top tips that you should follow:
Frequently Asked Questions
Conclusion
The towering pines and cool mountain air as especially inviting during the summer months, and few activities are more fun than a water hike to a gorgeous pool and waterfall! Water Wheel Falls just outside Payson, Arizona is a hike that any adventurer should put on their list.
The trail involves some way-finding and creek crossings, and the pool and falls at the end of your trek are refreshing and worth the hike. Whether you make a day trip out of it or add it to your weekend itinerary for an extended trip up north, consider seeing the old water wheel plus the incredible Ellison Creek for yourself!
You won't be disappointed.
Complete Guide, Map, Details & Pro Tips (2022)