I was born in Newcastle, so I spent all of my smiley-faced childhood roving around the place. Growing up, I spent time exploring beaches, towns, castles, animal parks, aquariums, and plenty more stuff.
So in this guide, I've put my knowledge to some use… and I've brought you this: a big fat list of the 13 best zoos, animal farms, and aquariums near Newcastle.
Bring some animal feed and come join the fun!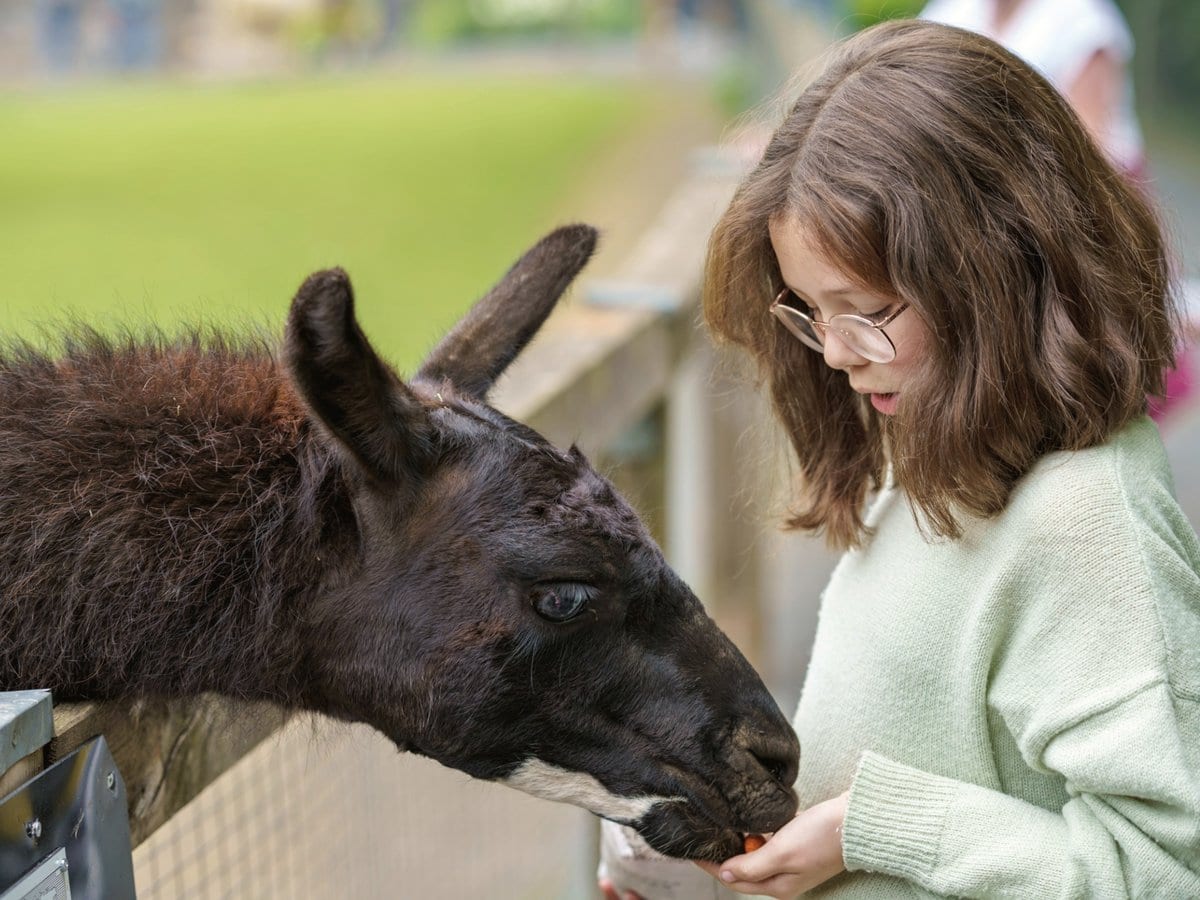 Best Zoos Near Newcastle (+ Wildlife Parks and Aquariums)
Here's the map of the best zoos, animal farms, and aquariums near Newcastle upon Tyne:
1. Tynemouth Aquarium
Back when I was a cute little baby-faced boy, I used to come here all the time.
The only fully-fledged aquarium in the northeast of England, it's a massively popular family day out… and everyone in Newcastle has heard of the place.
Their critters and creatures include pufferfish, sharks, axolotls, rays, flashlight fish, seahorses, clownfish, and loads more. They even have some stonefish (the most venomous fish on the planet).
The place has 17 different interactive experiences and themed areas. Some of the highlights include a color-packed coral reef, a fun and frenetic seal cove, a predator tank, an endangered zone, a whole load of playful otters, and a so-called 'weird and wonderful' exhibition.
And on top of all that fun, Tynemouth Aquarium also has one of those ocean tunnel experiences that all the best aquariums have.
Once you're finished at the aquarium, make sure you explore Tynemouth. An endlessly-endearing coastal town just east of Newcastle, it's a trendy spot with nice beaches, drool-inducing fish and chips, and loads of cozy places to eat and drink. Surf Cafe is a local favorite.
2. Whitehouse Farm Center
Here's another place I always used to visit when I was a kid.
A rural hangout sitting south of the lovely town of Morpeth, this is one of the most popular family-fun options in the region.
Animals here include rabbits, guinea pigs, skinks, tortoises, bearded dragons, geckos, pythons, tarantulas, giant millipedes, hissing cockroaches, snails, parrots, kestrels, owls, donkeys, horses, pigs, sheep, wallabies, lamas, monkeys, skunks, and giant snails. And even though that's a lengthy list, it's just the beginning.
They also have lots of interactive exhibitions, including play areas, racing cars, tractor rides, and a whole load of animal handling. And best of all, the place also offers 4 on-site accommodations, for really getting knee-deep in the immersive animal adventures.
Aside from the regular events and attractions, Whitehouse Farm also hosts special events and seasonal stuff, including performances, interactive Christmas experiences, picnics, costume characters, animal-feeding experiences, and loads more. No matter when you come, there's usually some special event happening. Highly recommended!
3. Kielder Water Bird of Prey Center
Kielder is one of the most exciting outdoor areas near Newcastle. A massive reservoir with a lengthy perimeter of 27 miles (43km), it offers hiking, cycling, running, mountain biking, play areas, family attractions, and loads more stuff.
But it also has… as you've probably already intuited… a bird of prey center. It's one of northern England's biggest collections of birds, featuring owls, falcons, eagles, hawks, and even vultures. The center is also home to a family of wallabies (who, as you likely already know, aren't birds).
You can handle most of the birds, but there's also much more immersion on offer. The place offers falconry courses, bird-management courses (for people who are thinking about buying or rearing falcons), photography sessions, and hawk-walking experiences (where you can feed swooping hawks from the sweaty palms of your trembling, terrified hands).
Since you're reading this, you probably like animals. And since you like animals, here's some good news for you: because Kielder is so remote, rural and quiet, the region is home to lots of wild creatures. Wander around the reservoir, and you might see badgers, bats, otters, deer, and loads more.
4. Northumberland County Zoo
Sitting between Morpeth and Alnwick, Northumberland County Zoo is the closest thing you'll find to an actual zoo within close proximity of Newcastle.
In some ways, it's a little similar to Whitehouse Farm, but (as is pretty apparent), it's more farm-like than zoo-like.
So they do have farm animals, such as pigs, horses, goats, and sheep. But they also have much more exciting stuff, including lynxes, porcupines, marmosets, meerkats, lemurs, servals, arctic foxes, snow leopards, turtles, chameleons, various types of strange frogs, and a whole load of insects.
Other attractions include a theater-style bird show, a walk-through lemur experience, a walk-through parrot experience, a tractor museum, an outdoor play area, a soft-play zone, and a load of zookeeper talks (where you can learn stuff about the animals you're gawping at).
The zoo also places a focus on conservation. It's currently involved in lots of projects, including promoting the preservation of the ever-more-rare Scottish Wildcat.
5. Washington Wetland Center
Washington Wetland Center is a really unique spot, and it's way different from any other venue on our list.
First of all, it's all about the animals that live and breed in the UK's wetlands (and migrate through these wetlands on their journeys to more exotic places).
But it's also not just a tourist attraction — it's a real-life wetland region, where lots of creatures actually live and pass through. The center is dedicated to preserving wetlands like this one and promoting education on them.
Based over more than 100 acres of land, Washington Wetland Center offers kingfishers, otters, dragonflies, baby animals, flamingos, ducklings, and lots of rare, unusual, and migrating birds.
Because the venue is all about education and preservation, they offer a whole bunch of informative and interesting talks and experiences. You can learn about both local and exotic birds, and even spy on birds as they feed, nest, and prepare for their big long onward journeys.
For younger kids, the center has a play area, topical events, and hands-on interactive exhibits.
6. Ouseburn Farm
Admittedly, this place isn't as exciting as some other options on our list. But it offers a fun slice of action, and it's pretty much right in the center of Newcastle… so if you're short on time (or don't have access to a car), this is the place you want to visit. And because it's free to enter, it's a good option for budget-friendly fun.
A charity-run city farm, it's a charming little place and is home to goats, sheep, pigs, rabbits, guinea pigs, chickens, tortoises, lizards, and more. And even though it's small, it's pretty diverse: the pokey proportions of the place contain ponds, woodlands, and meadows.
It's a lot more than just a tourist attraction. It's a hub for education, and the place is dedicated to raising awareness about how we can use nature to eat, drink, and protect the environment.
The opening times are usually pretty limited, especially in darker months. So check in advance if it'll be open when you plan to visit.
When you're done exploring the farm, spend some time exploring other parts of the Ouseburn. My favorite part of Newcastle, it has trendy cafes, cozy pubs, gentrified hangouts, and even The National Center for Children's Books.
7. Bill Quay Community Farm
Bill Quay Community Farm is a lot like Ouseburn Farm. And because it's just over the river from the city (and accessible by public transport), it's another great fuss-free option.
Although it doesn't offer a huge number of rare or unique animals, it's a really hands-on place, with a nice community vibe. Another not-for-profit charity with enthusiastic staff and friendly welcomes, you can feed, touch, and learn about the animals.
They have alpacas, pigs, goats, horses, geese, chinchillas, rabbits, guinea pigs, chickens, and bargain-priced bags of feed (priced at only £1 each).
For little kids, the farm is home to a short but pretty Gruffalo-based woodland trail. They also have a nice on-site cafe, with tasty homemade food and super-reasonable prices.
If you're with little ones, this is a fantastic farm to check out, and they'll absolutely love the place. If you're not, you're best off visiting one of the other entries on our list.
8. Northumberland College Zoo (Kirkley Hall Zoological Gardens)
In a rural part of southern Northumberland, there's a big famous building called Kirkley Hall. A massive 17th-century mansion sitting inside 190 acres of land, it's surrounded by gardens, plants, flowers, and loads of places to hike.
But get this: inside Kirkley Hall, you have Northumberland College Zoo (which, until recently, was called Kirkley Hall Zoological Gardens). Unsurprisingly owned and managed by Northumberland College, it's an educational facility for learners who study animal-based courses at the college.
But on weekends (and sometimes during school vacations), the place opens up to the public. And there's a surprising amount of fun on offer, with more than 200 different species.
Some of the highlights include meerkats, porcupines, wallabies, alpacas, monkeys, bush dogs, lots of rare reptiles, a variety of frogs, and a whole load of strange, unusual and colorful birds.
Because it's an educational facility, it's a great place for getting involved in interactive experiences. The venue offers experiences with meerkats, lemurs, reptiles and squirrel monkeys, while other fun includes a walk-through wallaby experience, an education room, and lots of zookeeper talks on a variety of themes.
If you actually want to learn, this is the best option on our list.
9. Crazy Creatures North East
Alright, we've already featured some pretty unique places on this list. But this is the most unique of them all.
Instead of having a fixed venue, Crazy Creatures North East is a so-called 'mobile petting zoo,' that runs out the back of a vehicle.
So while you can't visit them, they can visit you. That's not ideal for your average tourist, but it is ideal if you're trying to find something for a birthday, a corporate event, a special occasion, or a school visit.
If you're wondering how much furry fun can be stuffed into the confines of one measly van, here's the answer: a surprisingly massive amount. The van's inhabitants include ferrets, rats, mice, snakes, tarantulas, a bearded dragon, a tortoise, a scorpion, and plenty more.
The business places a big focus on the 'petting' part of the 'petting zoo'—you can touch all the animals, so it's a nice option if you're looking for an interactive experience.
10. North East Falconry
Small-scale North East Falconry is open by appointment only and offers unique and intimate experiences. Rather than being a standard zoo, it's an experiential venue offering a variety of different bird-based activities.
Their three main offerings are:
An 'introduction to falconry' course, for people who are thinking about getting their own feathery friend
Photography days, in which you can grab snaps of big birds swooping around
Hawk walks, where you walk through the woods with a hawk, feed it from your gloved hand and watch it fly around the forest.
They've been offering these experiences for more than five years, and the place is managed by a tiny team who are super passionate about big birds. They have lots of specialist equipment, and they really know what they're talking about.
If you're genuinely interested in learning about birds, you'll love this place. But if you're just looking for something a little more casual, you should visit one of our other options.
11. Kirkleatham Owl Center
Another bird-based option, Kirkleatham Owl Center is one of the oldest owl-dedicated centers on the planet—it's been serving up hefty portions of feathery fun since 1990.
Included among the owl-based fun, you get owl-centric talks, owl-feeding displays, and massively-passionate staff who know everything about the birds who live there. If you can, try to visit the venue during one of their excellent flying displays, when you can watch the cute little guys swooping around.
But, despite its name, the center also offers way more than just owls. Other notable highlights include vultures, porcupines, emus, kookaburras, tropical birds, and lots of farm animals. The place is also home to a bunch of meerkats—and the center regularly hosts outrageously-endearing meerkat-feeding displays.
When you're done at the Kirkleatham Owl Center, head east to lovely Saltburn beach (and the lovely coastal town of Saltburn-by-the-Sea).
12. Wetheriggs Animal Rescue
Sitting between Darlington and Barnard Castle, Wetheriggs Animal Rescue is a family-run animal-rescue farm, and it's outrageously loveable and wholesome.
This isn't a standard tourist attraction—instead, the team who work here takes injured animals and unwanted pets, and gives them a new life and a new home.
But despite it being a rescue center, it's home to more than 500 critters, with a whole range of different stuff.
Included among the beasts and birds, you get alpacas, llamas, snakes, ducks, chinchillas, ferrets, geese, horses, quails, sheep, tortoises, and some surprisingly-rare animals. For the measly fee of £1, you can buy bags of animal food, and hand-feed some of the creatures.
It's also possible to adopt the animals, if a one-off visit just isn't enough to satiate your animalistic appetite.
If you're looking for something heartwarming, I totally recommend visiting Wetheriggs Animal Rescue. You'll leave with a big fat smile on your face, and hearing about the animals' new lives will make you want to cry (in a good way).
13. Edinburgh Zoo
Okay, this option is admittedly pretty far from Newcastle. But it's one of the best zoos in the UK (by a long way)… so if you're really keen to visit a really good zoo, it's totally worth the trip.
Here, you'll find a whole load of brilliant stuff, and you can easily spend an entire day wandering around the enclosures (I've visited several times, and I'm still pretty sure I haven't seen everything). They have more than 2,500 animals, and all the fun is spread over more than 80 acres.
Highlights include the only pandas in the UK, a knighted penguin named Sir Nils Olav, a massive penguin enclosure (with underwater viewing areas), a walk-through monkey experience, a walk-through lemur experience, a walk-through tiger experience, topical events, daily talks, be-a-zookeeper experiences, and plenty more.
Other notable animals include hippos, lions, sun bears, gibbons, chimpanzees, armadillos, sloths, and lots of endangered animals. They also have an excellent section with lots of strange lizards, frogs and snakes.
While you're visiting the zoo, you should obviously also explore Edinburgh. Yeah, it's a tourist cliche, but it's a brilliant city—and it offers a big bunch of underrated stuff.
Final Thoughts and Further Reading
There they are—the 13 best zoos, animal farms, and aquariums near Newcastle.
For more information on one of my favorite cities on the planet (yeah, you're right—I probably am a bit biased), check out my guides on the 22 best things to do in Newcastle, and the top reasons you should visit the place.
Thanks for reading, thanks for stopping by, and thanks in advance for visiting us again in the future!
13 Best Zoos, Animal Farms, and Aquariums near Newcastle